About Us
---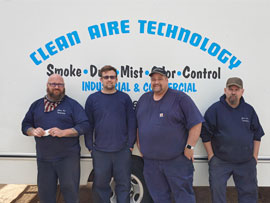 Experienced Full Service Company
For over forty-five years Clean Aire Technology has helped a broad range of customers save thousands of energy dollars by re-circulating "cleaned air" with the goal of making the air in work spaces cleaner and safer. Facility managers, shop foremen, health officers, business owners and others responsible for workers productivity and well-being have relied on C.A.T. for answers to their indoor air quality concerns. Clean Aire Technology has met the challenges of companies ranging from small fabrication shops to Fortune 500 Corporations covering a broad industrial base.
During our many years in operation we are proud to have developed a customer base serving over 5500 New England customers. We sell, install, and service the major manufacturers of air cleaning equipment. We provide turn key installations which include the supply and installation of ductwork and blowers.
Clean Aire Technology offers a prompt, knowledgeable response and on site evaluation to assess your air cleaning requirements. We help provide employee health protection. Our focus is to meet and exceed OSHA and EPA regulations. We guide companies on NFPA compliant dust collection systems.
---
Staff
Our knowledgeable staff includes three sales professionals with over 98 years of combined experience. We are proud to field a team of five highly trained service technicians with over 92 years of combined experience.
---

Air Purification Services for New England
Clean Aire Technology, Inc. is a full-service distributor of industrial and commerical air purification products. Our air cleaning specialists and service fleet provide on-site evaluation, system design, professional installation, and ongoing servicing for optimal system performance.
---
Our Mission
To supply clean air systems that meet and exceed industry standards of performance and quality. After 45 years we still remain committed to providing unique and innovative solutions to air pollution issues. Each solution is backed by comprehensive technical support and followed up with outstanding customer service.